By Bob Vander Ploeg, Fleet Captain
Thunder Bay Yacht Club is planning to host a World Sailing Approved Offshore Personal Survival Course April 7 and 8 of 2018. This two-day course has great value for all boaters: cruising and racing sailors, power boat cruisers, and fisherman.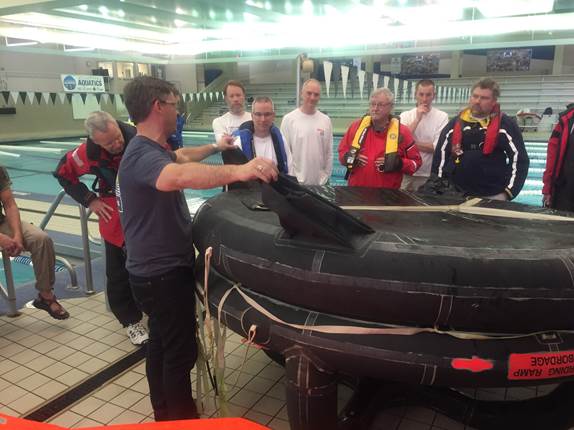 Eric Hill is the instructor. He is a Canadian sailor who was nominated for president of Sail Canada in 2017. In the photo below Eric is talking about ballast bags and how they prevent an inflated raft from capsizing.
Did you know that in addition to ballast bags, rafts depend on crew weight for stability? Larger rafts are not necessarily better: rafts achieve maximum stability when fully loaded, so an eight man raft is far less likely to capsize with eight crew aboard than two. Think safety, not comfort.
Selected credentials from Eric's CV include:
RYA Yachtmaster instructor
MCA UK commercial Master of Sailing Vessels to 200 gross tons
Royal Canadian Navy offshore training skipper for 2007-2012
World Sailing Senior Offshore Personal Survival instructor
Participants who demonstrate competence in the theory and practical portions of the course receive a certificate. Offshore races such as the Chicago-Mac recommend certification in their safety regulations: "at least 30% of those aboard the boat, but not fewer than two members of the crew, unless racing single-handed, including the person in charge, shall have attended a…Safety at Sea Seminar within the last 5 years…"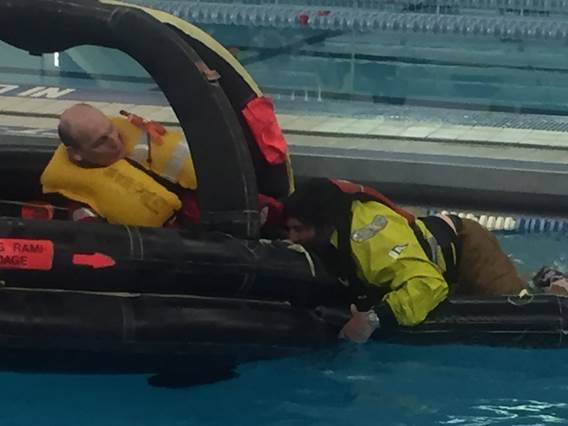 The course material is comprehensive and includes all the elements of World Sailing's Offshore Special Regulations (Appendix G). The material presented is appropriate for anybody who has safety equipment such as flares, GPS, VHF, DSC-VHF, inflatable PFDs or life rafts, MOB equipment, safety harnesses and tethers, fire extinguishers, EPIRBs, etc., but really, anyone on the lake in anything larger than a canoe would be safer for taking this course.
This course includes in-the-water exercises, not just demonstrations: participants enter the water in foul weather gear, deploy inflatable PFDs, right and board life rafts. Having taken the course I can tell you that entering a life raft from the water is a physical challenge, but is much easier with proper technique (and with an assist from crew aboard the raft: gallantry does not equal safety – the strongest/fittest should enter first and then help others board).
The course also includes a flare-firing exercise. Question: Are SOLAS flares worth the extra money? Answer: They are if you would prefer that your flares not drip molten material that will burn through the floor or inflation tube of a life raft!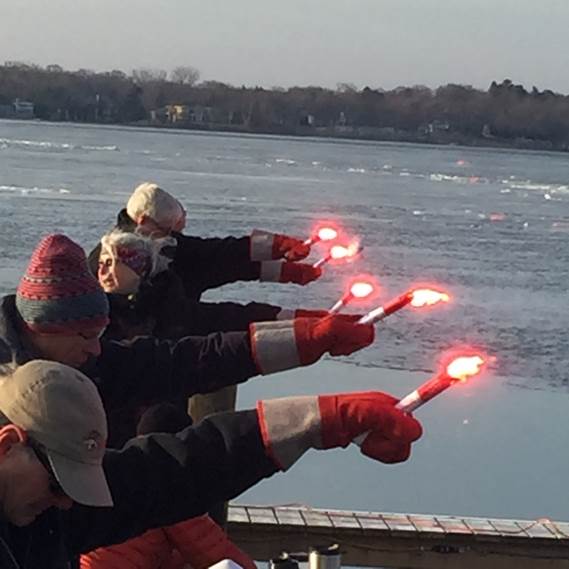 In 2017 I attended a similar course in Minneapolis with Morgan Ellis and Alec Smith. We learned a lot of very valuable information, but we agreed that the most important outcome was that it changed our approach from regulatory compliance to safety management, in other words, a paradigm shift.
The cost per person will be $479 + (HST). Early bird discounts may be available. Registration is available at http://www.seasurvival.ca/sign-up.html. This might be a great gift for your skipper or crew, or an early father or mother's day present. Please contact me if you are interested in participating, or would like to help organize this presentation or have questions, and please feel free to share with anybody in the local boating community who might be interested!
Printable PDF